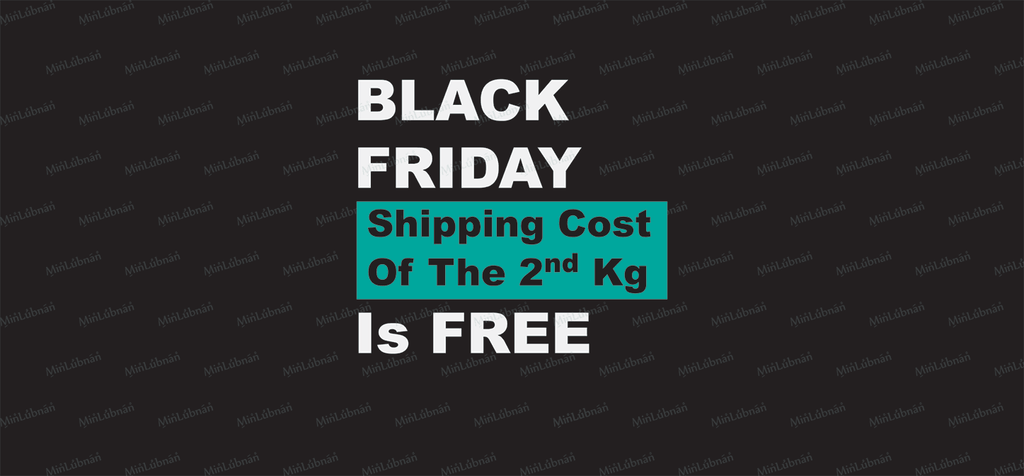 Black Friday Offer
On Black Friday November 23, 2018 the SHIPPING COST of your second kilogram is absolutely FREE!
Applicable Terms:
1- Offer starts on Nov 22 at 4:59 PM Beirut Time and ends on November 24 at 11:59 PM Beirut Time (midnight). EXTENDED UNTIL NOV 25
2- Orders placed during the above mentioned period will get the shipping cost of the second kilogram for free. That is the shipping cost and not the product cost.
3- You can benefit from this offer if you buy 2 kilograms only. If you add a third kilogram to your order you will be charged the full shipping price of the three kilograms. Please pay attention.
4- This offer is valid to all available shipping destinations.
5- YES, you can do multiple shipments of 2 kilograms! This is totally acceptable.
Our customers ask this question often, what if we want to buy 4 or more kilograms? the answer is go ahead and split your order over multiple shipments of 2 kilograms to get the maximum benefits out of this offer. 
6- Orders placed during this day will be dispatched on Monday 26 due to the large volume of orders we receive on this day. DHL or UPS will be handling delivery.
That's it,
Happy Shopping from www.minlubnan.com team!
---